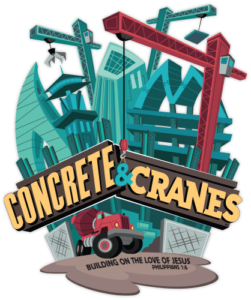 To help you stay safe from the coronavirus, we have decided to offer a stay-at-home, virtual Bible School with the goals of providing activities that the kids will love and making it as easy as possible for you to participate!
With a virtual format, YOU control the schedule & the location, so invite family, friends & neighbors to participate with you!
To register, email Karen@BroadusMBC.org with the children's names, ages & a contact phone number by July 15 at noon.
Supply bags with your "construction" materials (game instructions, craft supplies, song lyrics, missions info & snacks) should be picked up from the church before July 20.

Each morning of VBS week at 9 am, a short video (30 min) with that day's music, Bible lesson, drama, craft instructions, and a prayer will be posted on the church's Facebook page; round up the kids and watch it at your convenience in the comfort of your home!

You might want to gather Legos, Jenga, Tinkertoys, big boxes & blocks for extra building & construction fun after the video session is over!

To help make it feel more interactive, please take pictures of your kids doing VBS activities and post them on the Facebook page! Share and show off what they build!

Looking forward to learning more about the foundations of our faith with you!

Please contact Karen Tucker if you have any questions.