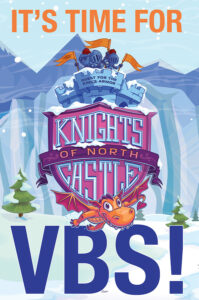 Bible School Live &

Virtual!
Were on a quest to find the Armor of God!
We understand that while some of you are ready to get out and do things with other people, many of you are not quite ready. This year we are offering Bible School two ways: @ Church and @ Home! Our goals are to provide activities that the kids will love and make it easy & safe for them to participate!
The in-person option will be held on Sunday – Thursday in the Great Hall of Broadus Castle (a.k.a. the Worship Center) where each noble family will have their own table for their brave knights to gather around. There will be plenty of space between the tables, too. On our quest to find the Armor of God, we will enjoy music, Bible stories, scripture, crafts, snacks, missions, and games which will be held on the castle grounds, weather permitting!
Get ready for the quest of a lifetime!
Virtual: You pick the time!
With the
virtual format
, you control the location & the schedule!
Bags with your "quest essentials" (game instructions, craft supplies, song lyrics, missions info & snacks) should be picked up from Broadus Castle before Aug. 8.
A short video (about 30 min) with each day's music, Bible lesson, drama, craft instructions, and a prayer will be posted on the website & the Facebook page on Monday – Friday mornings.

Round up all of your knight (family, friends & neighbors) and watch it at your convenience in the comfort of your home.

Feel free to take pictures of your knights on their quest for God's Armor and post them on the Facebook page.
To register, email your choice of in-person or virtual to Karen@BroadusMBC.org by Sunday, Aug. 8 at 2 p.m.
Please include each child's:
full name

address

age &

grade in the fall 2021

food allergies

a parent/emergency contact name

phone number
Please contact Karen Tucker if you have any questions.