Broadus History
Broadus Memorial Baptist Church was established in 1895 and was named after John A. Broadus,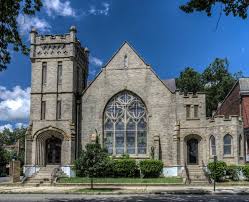 a renowned Baptist leader who had recently died. It began in a temporary building erected at 32nd and East Marshall Streets in the Church Hill area of Richmond. In 1901 the congregation entered a new building at 32nd and Broad Street. A significant event in the church's history was a merger with East End Baptist Church in 1945. A number of East End members are still active today.
Under the leadership of Dr. Ford in the 1950's, Broadus relocated to the Glenwood Farms area of Henrico County. For several years the congregation met in the Ratcliffe Elementary School. A new sanctuary and educational space were constructed, and subsequently additional educational space and a family center were added by 1986.

The second major relocation came in this new millennium, prompted by a shifting church membership living primarily in Hanover County. The church building at the intersection of Harvie Road and Laburnum Avenue was sold to another church, and Broadus began meeting in Lee-Davis High School in October 2005.
Groundbreaking for a new facility was held in November 2005, and the first service at 5351 Pole Green Road in Mechanicsville was on Easter Sunday 2007. Broadus' footprint has continued to grow with the addition of a Community Building in 2010.

The years since then have been fruitful and rewarding. In 2010 Broadus transferred its associational membership from the Richmond Baptist Association to the Dover Baptist Association. The church continues to support ministries of both, as well as the Souther Baptist Convention, the Baptist General Association of VA, and a number of local ministries.
A significant factor in the history of Broadus is the tenure of its pastors. In the past one hundred years, Broadus has had only four pastors. The previous three pastors, including Pastor Emeritus Joseph Holland, served an average of twenty-eight years each before retiring yet remaining active in the church. The current pastor, Phil Peacock, was called to Broadus in 1998.